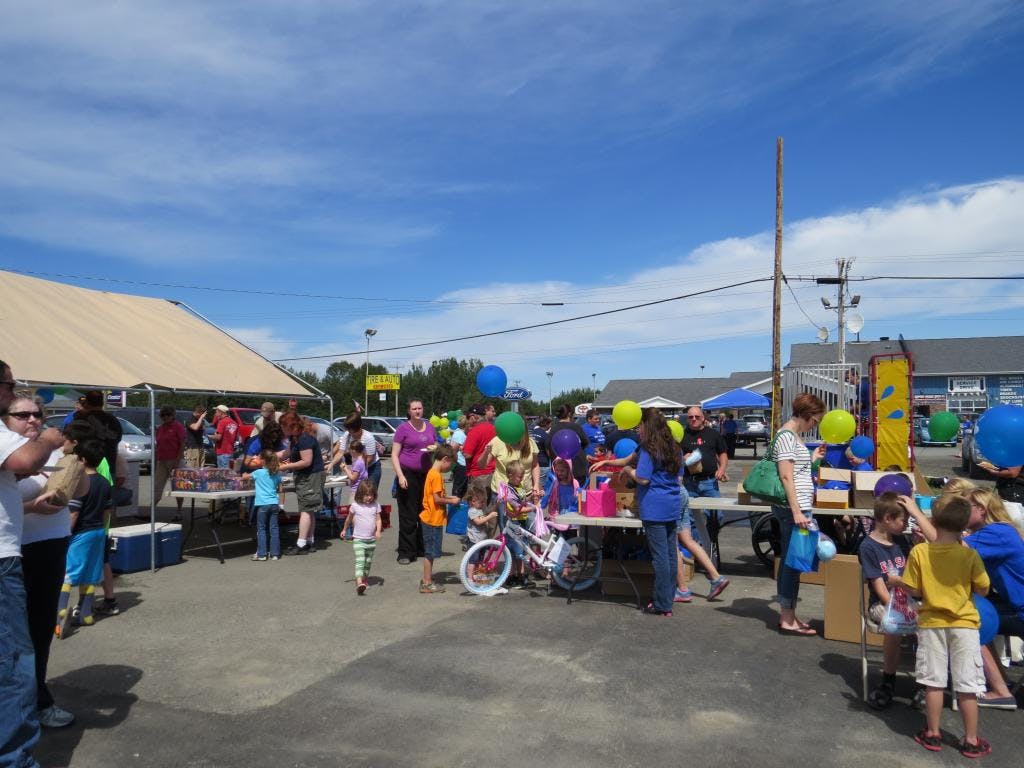 Kid's Day
When we came up with the plan to do a Kid's Day here at York's, we never imagined it would be so successful!
We had a few games set up where the kids could win candy, Frisbees or beach balls. The rubber ducky pool and bean bag toss were popular with the little ones. Another popular booth was the face painting station. It wasn't just faces that were being painted, the kids requested their hands, arms and legs as well. If these didn't interest the kids, they could get a balloon animal from the clown booth, take a hayride, or even attempt to dunk Jerry York in the dunk tank! By far, the most popular attraction would have to be the pony rides! The kids had 4 beautiful ponies to choose from. Kid's day t-shirts and back to school supplies were given to any child wanting them. Two lucky kids also won a brand new bike, Congratulations Macy Gilman and Donald Michaud, we hope you enjoy your new bikes! Any sort of outside activity wouldn't be complete without grilled hot dogs and hamburgers, ice cream, popcorn, cupcakes, chips and cotton candy!
We wanted to make sure that everything was perfect for the kids and we truly feel we accomplished that. The day wouldn't have been possible without all of the hard work from everyone involved! This was truly a group effort and we just want to extend our thanks to everyone involved!
Our Dealership Proudly Supports The Following Organizations
AROOSTOOK ASPIRATIONS
AROOSTOOK COUNTY CRIME STOPPERS
AROOSTOOK TEEN LEADERSHIP
BANGOR DAILY NEWS CLASSROOM EDUCATION
CAMPAIGN FOR CHALLENGE
CARY LIBRARY
DISABLED AMERICAN VETERANS
EAST GRAND SCHOOL
HODGDON HIGH SCHOOL
HOULTON AREA LITTLE LEAGUE
HOULTON COMMUNITY GOLF CO
HOULTON FAIR ASSOCIATION
HOULTON HEALTH SERVICES FOUNDATION
HOULTON HIGH SCHOOL ALUMNI ASSOCIATION
HOULTON PROJECT GRADUATION
HOULTON REC CENTER
HOULTON ROTARY CLUB
KATAHDIN HIGH SCHOOL
KNIGHTS OF COLUMBUS
MARCH OF DIMES
MARS HILL ROTARY CLUB
MONTICELLO FIRE DEPARTMENT
MSAS # 70 PROJECT GRADUATION
NORTH COUNTRY CRUISERS
PATTEN LUMBERMEN'S MUSEUM
RSU #29 MUSIC BOOSTERS
SOUTHERN AROOSTOOK MINOR HOCKEY ASSOCIATION
SOUTHERN AROOSTOOK Â YOUTH FOOTBALL
SOUTHERN AROOSTOOK C. S
SOUTHERN AROOSTOOK DEVELOPMENT CORPORATION
ST. MARY OF THE VISITATION
THE ADDISON POINT AGENCY
THE COUNTY CO-OP & FARM STORE
THE COUNTY OPEN
UNITED WAY OF AROOSTOOK
VALLEY RACING TEAM
Back to Parent Page